The digital ecosystem offers marketers and advertisers many advantages: flexible communication channels, targeting ability, and data benefits. In the digital age, we can access limitless amounts of data and information with just a few clicks of the mouse. Whether it's interested in celebrity gossip or looking up your favorite TV show, video game, or the latest marketing trends, you can find the information you need online.
I have often heard ad fraud is an issue described only for big brands. In reality, it can be a problem for any marketer or business. Marketers often still view ad fraud as a significant problem for publishers and advertisers but forget about the long-term impact on their reputation and brand equity.
But did you know that losses from online payment fraud will double by 2023, reaching $48 billion annually? We define ad fraud as fraudulent website clicks and other advertising impression scams, including when users view an ad but never actually see it or an ad is not delivered to anyone but still gets billed.
However, the growth of the digital is not free of danger, and there's no single tactic or strategy to prevent fraudulent practices.
LOSSES FROM ONLINE PAYMENT FRAUD TO MORE THAN DOUBLE BY 2023, REACHING $48 BILLION ANNUALLY," Juniper Research.
So, if you like to know more about what's causing it, you can check this article: How does Digital Ad Fraud Occur? But for now, let's see what we can do about it.
Because ad fraud has various forms, no single strategy will be sufficient to secure your inventory adequately. The key to prevention is ensuring safety measures for early detection of unusual activity and regularly working with a reputable ad quality provider.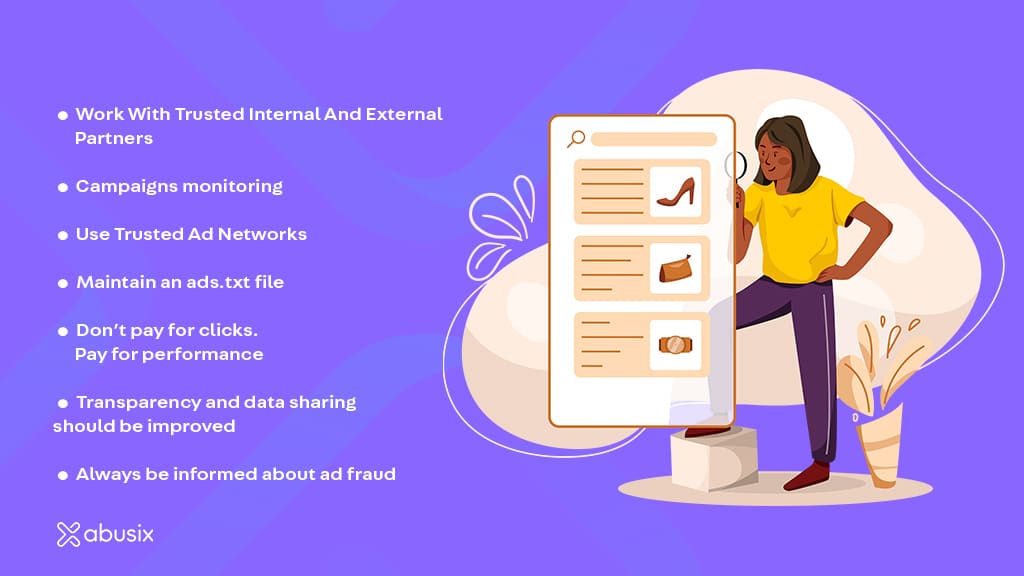 Here's what you can do:
1. Work With Trusted Internal And External Partners
Use at least one or more ad verification suppliers to reduce the risk of ad fraud. Once you've integrated it, ensure you're working with a DSP that gives a fraud-free guarantee to provide you only pay for legitimate transactions.
2. Campaigns monitoring
To better understand online fraud performance, track and monitor ad fraud across all campaigns.
3. Use Trusted Ad Networks
Stick with the "big gun" like Google, Bing, DoubleClick, Facebook, and other well-known organizations to avoid ad fraud. Too many agencies and tech firms have set up their own "trading desk" to upsell customers and hide behind secret ad inventory.
4. Maintain an ads.txt file
Make sure you have an ads.txt file in place that declares which ad networks, exchanges, and SSPs are allowed to resell your inventory and follow industry best practices for ads.txt maintenance. According to the Wall Street Journal, Google has implemented ads.txt on more than half of the ad space accessible on DoubleClick Bid Manager.
5. Don't pay for clicks. Pay for performance
Paying for results is the way of the future in marketing. Clients want results, and agencies should be paid by only providing results. It's a win-win situation for both sides.
6. Transparency and data sharing should be improved
More than half of marketers lack visibility and control over their social advertising data sets. All brands should create initiatives to improve transparency and performance data sharing across their social advertising supply chain.
7. Always be informed about ad fraud
There are industry organizations that work hard to define standards, education, and certifications to help legitimate publishing companies better protect themselves from ad fraud. Make sure you follow them.
What's the impact on marketers and on your businesses?
Whatever ad fraud tactic criminals employ, these seemingly insignificant percentages significantly influence your bottom line.
And those aren't the only massive ramifications for the marketing department.
Ad fraud quickly depletes ad budgets, which is a big obstacle to marketers' efforts. The more ad funds are spent on fake leads and conversions, the less money is available for marketing activities.
Digital ad fraud, more significantly for marketers, negatively impacts spend optimization. Ad fraud can bias campaign data dramatically, resulting in erroneous marketing judgments in the future.
Conclusion
As we can see, ad fraud is a significant issue and affects advertisers and businesses in all industries. Ad fraud prevention works best if it's taken proactively and in real-time, and there are several reasons why this is crucial. One is financial, and the other is brand damage and reputation, so proactively making an early decision using the correct data set will eliminate marketers' need to deal with it.