Most people google "What is my IP" to find an answer to that question. But we need to differentiate between different IPs, especially if you receive bounce messages saying that your email could not be delivered. In that case, your IP might be listed on one or more blocklists.
If that is the case, the chances are high that you have been blocked by IP address and not by domain or email. But why is that?
Email addresses are trivial to spoof, and domain names are cheap to acquire and use, but it's much harder to keep changing IP addresses. That is because IP addresses are short in supply, and changing the IP address of a server requires DNS changes, which in return requires planning to avoid downtime.
So which IP is now causing the listing on the blocklists? Is it your public IP or your mail server's IP?

Let's dig into the different IPs and learn what IP you need to check if you find your message not being delivered.
What IP causes the listing on a blocklist?
In email, the blocked IP will nearly always be the mail server's IP that sends the email to its destination, and for the vast majority of people, this will be the mail server of the ISP, hosting or email provider, and not your public IP.
There are only two exceptions to this:
You are running your own mail server: In that case, the IP will never be of your own internet connection unless you have some sort of compromised device and our authentication blocklist is blocking you.
Your ISP, hosting or email provider is preventing your ability to send email via their systems because they have detected that your IP has been compromised in some way and they are protecting their own systems.
In all cases, if someone is using our blocklists or any other DNSBL service to block malicious emails, you'll receive a Delivery Service Notification (DSN) aka. bounce message, stating that your email could not be delivered. Within this message, you will see something like this:
521 5.7.1 Service unavailable; client [192.0.2.128] blocked using black.abusix.rbl
or
----- The following addresses had permanent fatal errors -----
(reason: 554 5.7.1 Service unavailable; Client host [192.0.2.128] blocked using combined.mail.abusix.zone; https://lookup.abusix.com/search?q=192.0.2.128)
In both of these cases, the blocked IP is 192.0.2.128. In the former case, where there is no URL, you would simply go to our lookup & delist service page and enter the IP address manually and for the latter, you can just click the URL to find out more information about the listing and to request a delist by clicking the red button "Remove from List".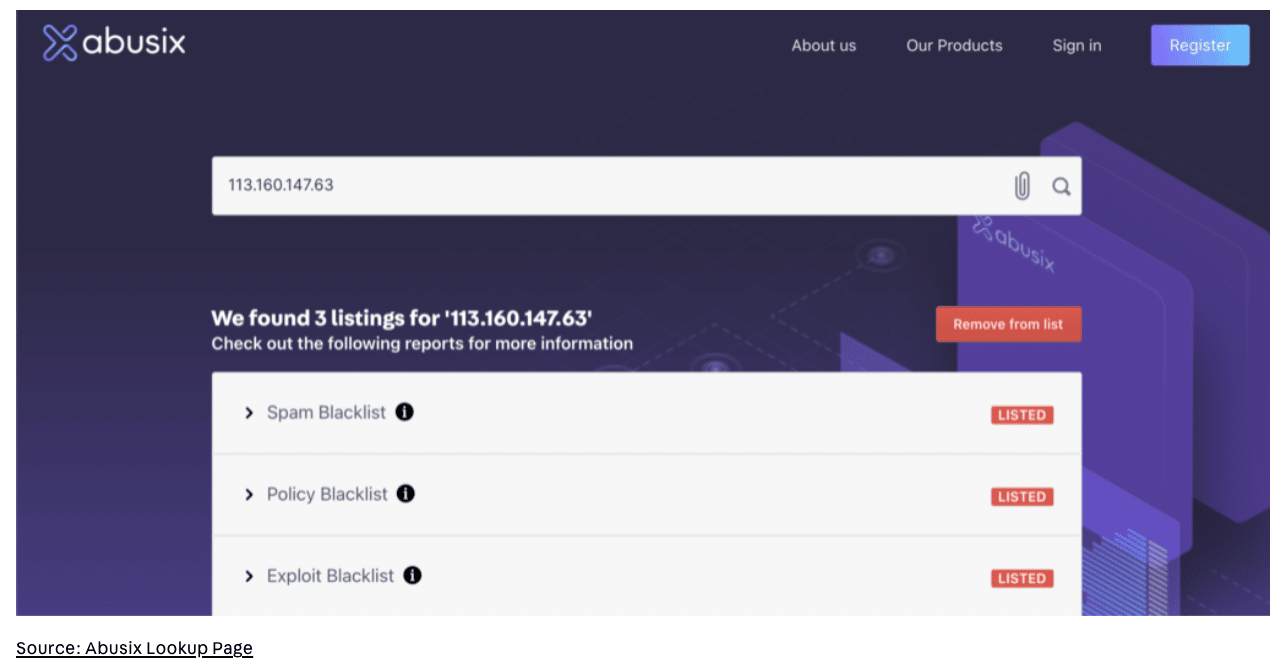 In all cases, any bounce message you receive must mention "Abusix" for it to be caused by a listing on our service. If it does not mention Abusix, you are being listed by a different blocklist provider.
Tools like MXToolbox and multirbl.valli.org check your IP or domain name against many other known blocklists to see if your IP/domain has been listed on one of them.

What not to do when you have an email problem
If you are a home user and google "What is my IP" and enter your public IP address that is being shown as a result, you will find that IP most likely to be listed on our policy blocklist.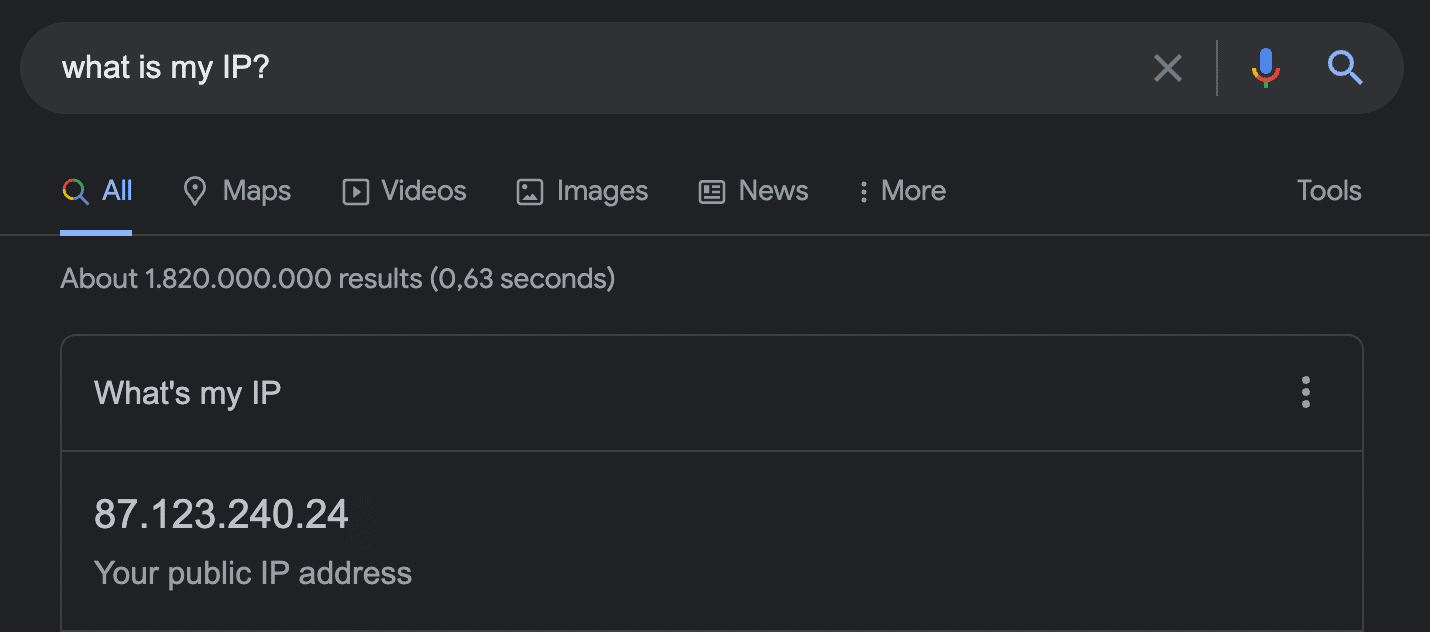 If you are a home user and don't run your own mail servers, this should not be cause for any concern, as it will not affect your ability to send or receive email.
A listing on the policy blocklist will only affect the ability of your IP address to talk directly to another email server. This is a great mechanism to prevent spam from being sent in case your device is being infected or compromised. Also, read this FAQ on our policy blocklist for more information or check out this video.
What to do if you have problems sending email
If you're experiencing a problem with email, firstly define exactly what the problem is.
Check the following:
Are your messages going to the recipient's spam folder?
This is always related to spam filtering and not usually to blocklisting or DNSBLs. You should contact the postmaster of the recipient domain or use their support service to resolve. Delisting an IP or domain will not improve your situation.
Are you receiving undeliverable messages in return to the messages that you send?
Read the undeliverable message carefully and see the example above, if it is caused by a blocklist/DNSBL then it will state it there, along with the IP address or domain name that is blocked.

You can then use this information to request a delist from the relevant service, or, speak to your service provider. If you have a follow-up question or want to use our blocklists to protect your customer's inboxes from email-borne threats before it hits your network, get in touch with our team.