Email can be the lifeline of a business – a way to communicate with your customers and advertise your products straight to their inboxes.
But what if that lifeline is suddenly cut off?
This is called IP blocklisting (formerly known as IP blacklisting). It's a method used by networks to block IP addresses they think are malicious or sending out spam.
It's costly for businesses, too. Studies show spam costs businesses more than $20 billion annually and harms productivity.
For all of these reasons, avoiding an IP blocklist should be at the top of your priority list.
Not only does staying off blocklists help your email deliverability, but it can also boost your team's productivity and save your company money.
This article is going to cover:
What is an IP blocklist, and what does it mean for your business?
Warning signs that you've been blocklisted.
How to check if your IP address or domain has been blocklisted
How to avoid your IP address or domain being blocklisted
How to remove your IP address or domain from a blocklist
What is an IP blocklist, and what does it mean for your business?
An IP blocklist is where a network blocks an IP address or domain name from sending emails to them because it's suspected of sending out spam or malicious content.
Landing on an IP blocklist doesn't happen randomly. There are several ways you can end up on an IP blocklist, including:
A huge growth in list size: Like anything done organically, a high-quality email list will grow over time, not overnight. If your email list suddenly grows by 100,000 subscribers overnight, this can set off alarm bells with your email and internet service providers. These alarms can lead them to believe that instead of acquiring subscribers organically, you have purchased a list of emails—leading to a blocklist. Using confirmed opt-ins is a great way to show that your subscribers are real and not spam, and adding other anti-bot tactics like reCAPTCHA to your sign-up forms signal your organic growth is legitimate.
Spam complaints: If you send out poor-quality emails or fill up your subscribers' inboxes with 50 emails a day, they may get annoyed and mark you as spam. And if your subscribers start marking your emails as spam regularly, it can lead to your internet service provider becoming wary of your email content or the quality of your email list. The more complaints your internet service provider gets from your subscribers, the better chance you will get blocklisted. Adding confirmed opt-ins to your mailing list can help prevent spam complaints.
Poor email addresses/lists: If your email lists aren't maintained, and you keep old/spam email addresses on them, any emails you send to them will bounce. Suppose your internet service provider notices that many of the emails you send out are bouncing or being sent to someone who hasn't opted into your content is a sign that you have a poor email address list. This can lead to your IP address getting blocklisted.
Infected PCs or Compromised Websites: If you have your mail server on the same IP as traffic from your internal PCs and websites and one of the PCs becomes infected or a website is compromised, they can be used to send out considerable amounts of spam, resulting in the IP address being blocked. It's important that your IPs used for email are dedicated to that use only.
The reasons above may not be what normally first come to mind when you think about spam emails. But when you consider the whole idea of a blocklist is to stop suspected spam and malicious activity, like sending out emails without the receiver's permission, the reasons behind getting put on a blocklist start to make sense.
In any case, getting put on an IP blocklist never happens without evidence. Your messages will go through a process every time you send an email to see if they are legitimate or spam: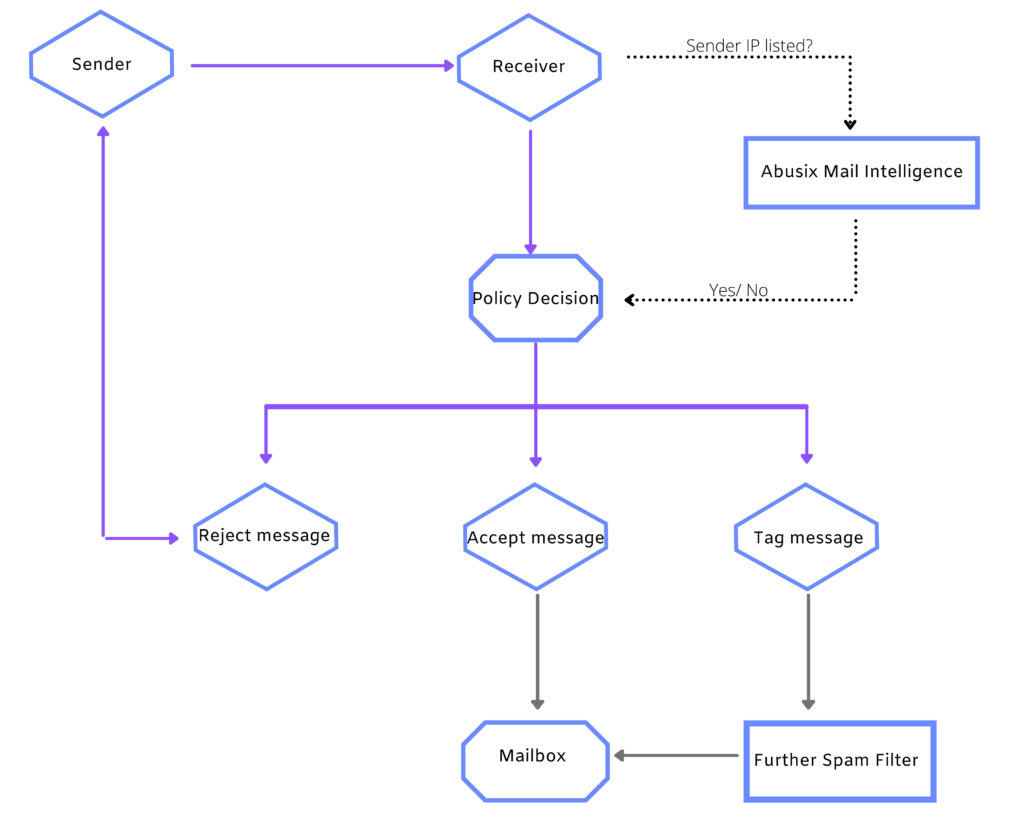 Warning signs that your IP is blocklisted
If your emails are being delivered to the recipients' "Spam" folder or they bounce back and you get a message saying it couldn't be delivered. In some cases, it might say outright that you have been blocklisted and provide a clickable link to find out more information.
These can be a warning sign that you have been blocklisted, and you need to check and confirm it.
How to check if you have been blocklisted
This process is easy and there are several websites available that can check your IP address or domain against lots of different blocklists and whitelists, such as DNSWL.
You can use several public sites (for free) to check if your IP address has been blocklisted. Tools like MXToolbox and multirbl.valli.org check your IP or domain name against known blocklists to see if your site has been placed on one.
If your IP/domain has been listed on one of Abusix's blocklists, you can go ahead and go to Abusix's lookup tool, which will allow you to check if your IP address has been placed on spam, policy, or authentication blocklists by simply typing in your IP, Domain, or Email address: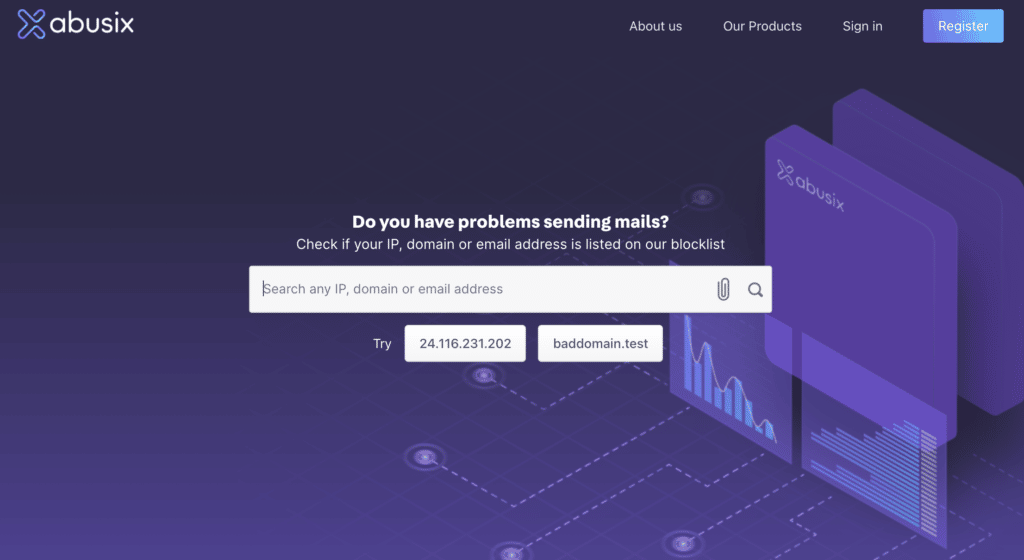 Once you hit search, Abusix runs your IP through several lists:
Spam blocklist: which contains the IP addresses of any hosts that have recently sent spam to traps
Policy blocklist: which lists all IP addresses that are unlikely to be used by a legitimate mail server
Exploit blocklist: which lists any IP exhibiting irregular SMTP client behaviour that indicates it's either a compromised host or service (including IoT devices), open-proxy, VPN, TOR exit node, viruses/worms or botnet infected
If your IP address is on one of these lists, the search will label it as "listed":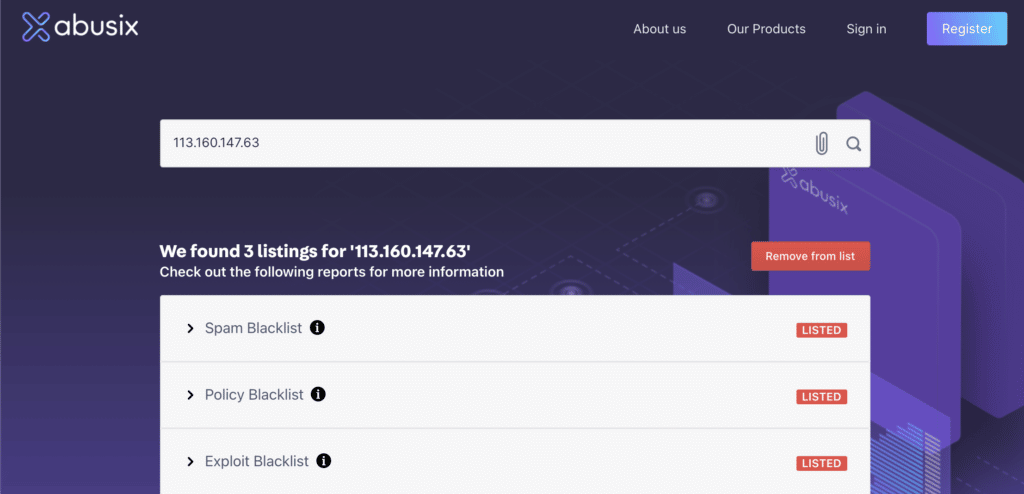 You get more details on why your IP has been listed when clicking on each of the lists. Once you fixed the issue, you can hit the red button "Remove from list", to get the process of delisting your IP going. You'll be forwarded to app.abusix.com, where you'll have to set up a free account.
How to remove your IP address from a blocklist
Once your IP address is blocklisted, getting it delisted can be a time-consuming and difficult task but it doesn't necessarily need to be.
Most blocklists allow you to submit a request to remove your address from the list, as long as you've fixed the issue that landed you on the blocklist in the first place.
Here's what that process looks like using Abusix. Once you sign-up (which you can do here), you will be taken to a dashboard that looks like this: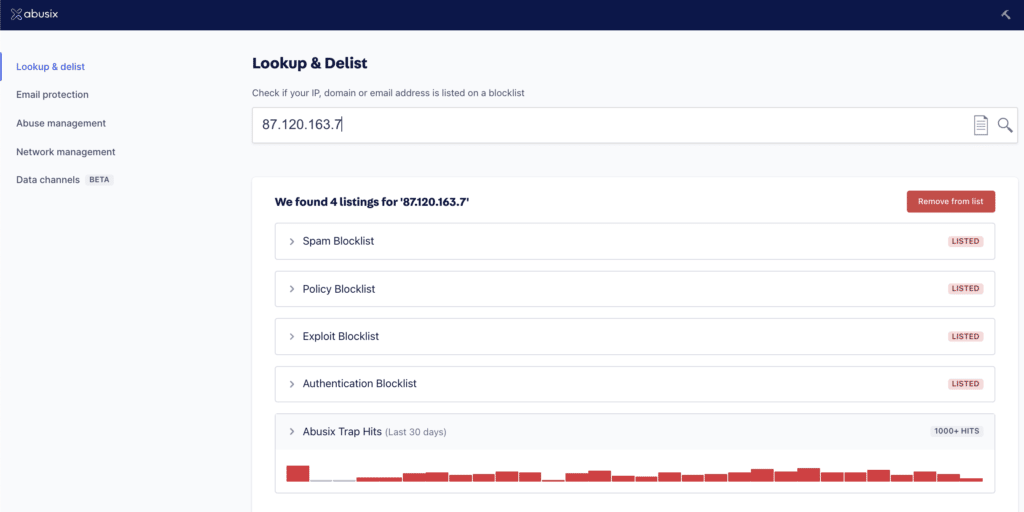 After you search your IP or domain name, Abusix will highlight any of their lists that you are blocklisted on. To get your IP/domain removed, you need to click the red "Remove from list" button, and then, Abusix takes over:
Any delist request you submit is processed immediately: Abusix rebuilds DNS zone files every single minute, so delisting your site shouldn't take longer than 5 minutes
Local mail systems take a little longer: If you synchronize a copy of data to your local mail systems instead of querying Abusix directly about the delisting, the process of getting a blocklist delisted might take a little longer. Depending on how your data is configured, it can take up to 15 minutes
Live chat is there if you still need help: If there is an issue getting your domain or IP address delisted, or you are still getting bounce back messages, you can contact Abusix using the live chat function inside the dashboard, and the team will help you out.
Once your IP address has been removed, you should pivot to a long-term approach of avoiding being put on another blocklist in the future.
How to avoid your IP address being blocklisted
Every blocklist has its own criteria an IP address needs to meet before being placed on it.
While some reasons are based on evidence or behavior, others focus on technical violations like incorrect or missing DNS records.
Still, the most common ways for your IP to end up on a blocklist stems down to compromised accounts or servers and poor email practice. If there's evidence that your servers or accounts have been compromised or you don't have good email collection policies in place, there's a high chance your IP will be blocklisted.
Technical blocklists often come down to issues with your mail server configuration or DNS configuration and are harder to spot for those without a technical eye.
The good news is that there are some best practices you can follow to avoid IP blocklists from happening. Make sure that you:
Keep your website software up-to-date: WordPress is one of the most commonly used and therefore most commonly targeted software, you must ensure that it is kept up-to-date, especially all of the plug-ins that you use.
Use a password manager and unique passwords for each site: This prevents your credentials from being used if a site that you have a login to is compromised.
Protect your any forms used for email or for sign-ups with anti-bot mechanisms like reCAPTCHA: This will ensure that automation cannot poison your forms and the resultant data.
Confirm all email addresses via opt-in/activation links: Send a verification email that must be clicked to activate. This prevents any automation that slips through any anti-bot mechanisms from signing-up 3rd party email addresses.
Is your IP/Domain blocklisted on our lists and you want to request a delisting? Please go to our look-up service page and follow the instructions there.
Are you running your own mail servers and would like to use Abusix's blocklist as an additional layer of defense to protect our users from spam, malware and other email-related threats? Start your free trial today to see what our suite of blocklists can do for you.