We have received this question several times through our support chat and wanted to give you an answer to your question.
First of all: don't panic!
If you are being listed on any of our Abusix Mai Intelligence blocklists, then we do have evidence of some wrongdoing. This doesn't need to be intentional. We're here to help you to get your listing resolved as quickly as possible.

Through our self-service delisting process on our lookup & delist service page, we'll guide you through the process of delisting an IP/domain. But first, you need to find out on which blocklist you're being listed on. So, let's go!

If you find yourself being listed on our policy blocklist

If you are only listed on our policy blocklist (PBL), then this should not cause any concern. The listing on the PBL will not affect your ability to send or receive emails.
Therefore, you do not need to request a delist from the policy blocklist unless you are running your own mail server on that address.
The policy blocklist only affects the ability of an IP address to talk directly to another email server, which it normally wouldn't do, thereby preventing spam from being sent from it, should any of your devices become infected or compromised.

If you find yourself being listed on our spam or exploit blocklist

If you find yourself listed in the "Spam" or "Exploit" blocklist, then you can directly request a delist through our Lookup & Delisting service page after you have taken action and resolved the issue that caused the listing in the first place.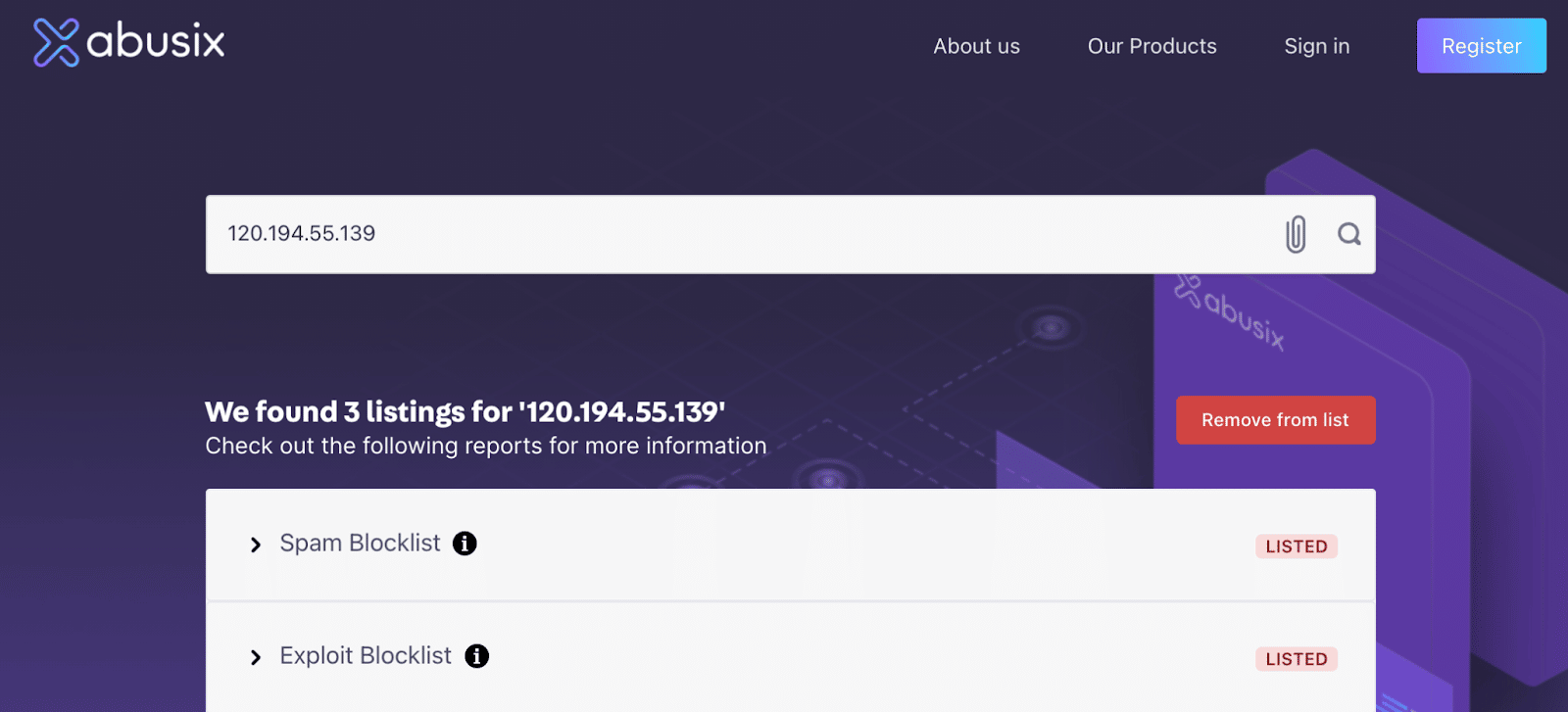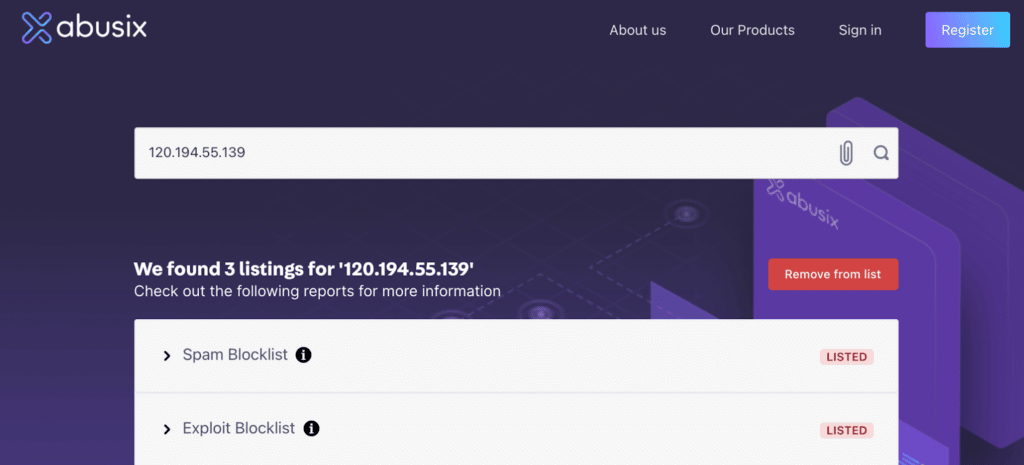 If you find yourself being listed on our authentication list

This means that we've detected activity from your IP that would indicate that the device or a device behind it (in the case of a NAT firewall) is either compromised or infected in some way. You should run a malware scan on all connected devices, check for firmware updates, and check your Wi-Fi security to make sure that you don't have any unauthorized hosts accessing it.
If you find yourself being listed on our welcome list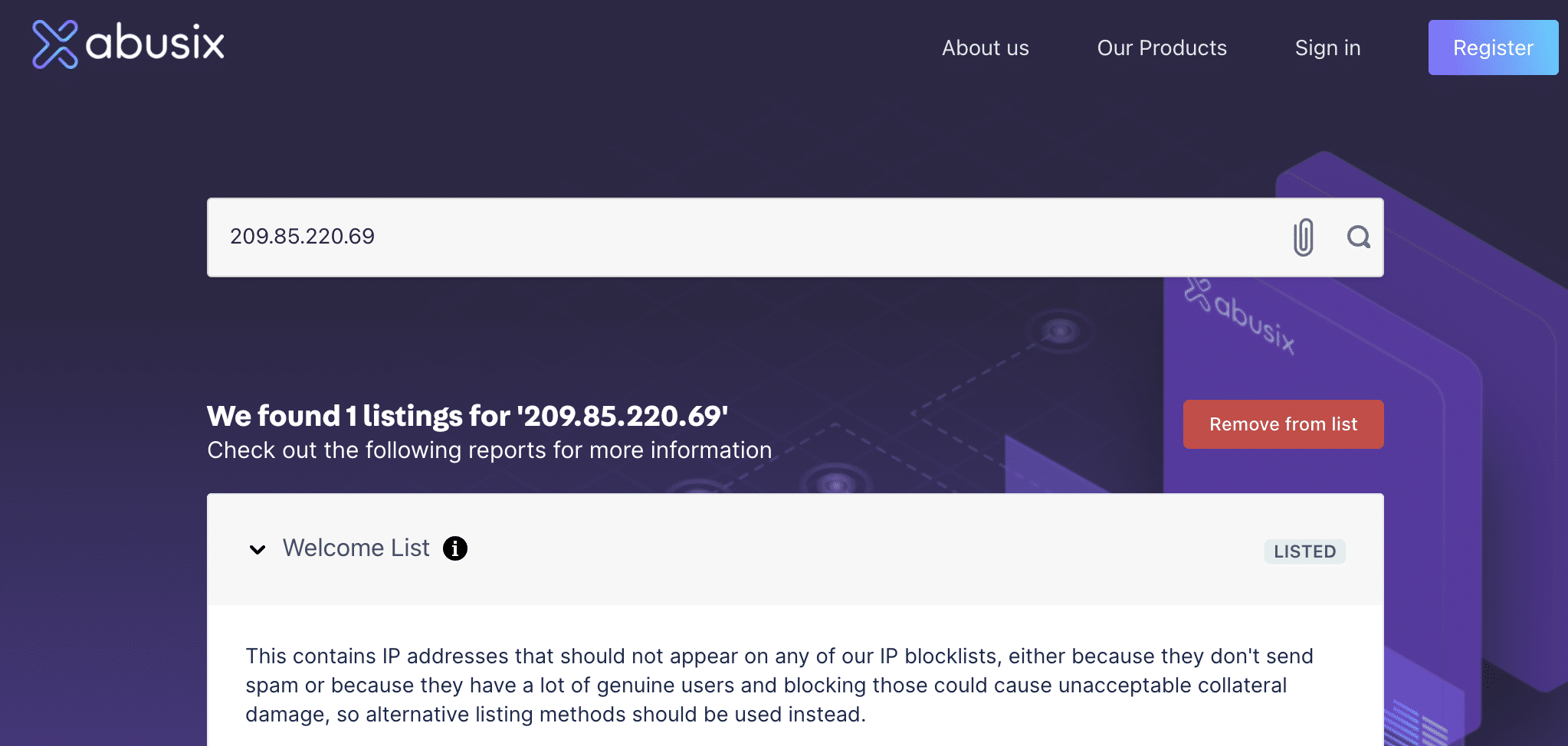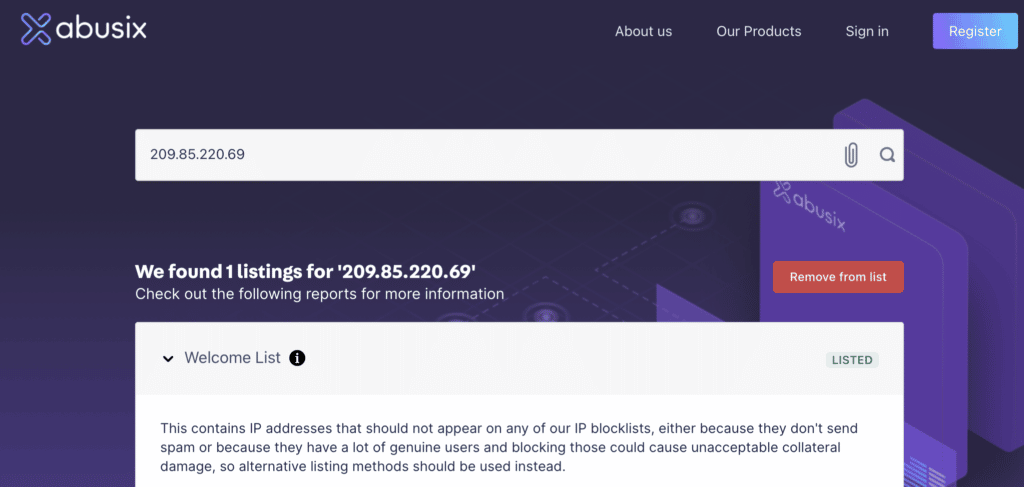 Our welcome list (previously referred to as whitelist) lists multiple whitelist sources and includes IPv4, IPv6, and domains. Next to our own internal welcome list, we receive data from some of the most relevant and trusted partners in that area include the Certified Sender Alliance, Sparkpost Reputable Senders, and DNSWL project.

If you find your IP/domain is listed on the welcome list you don't need to request a delisting, as this is a good thing. IPs on the welcome list don't send spam and often have a lot of genuine users.
It's most likely not your IP address but the one of your email provider being listed

If you don't run your own email server, then it's likely that the blocked IP address belongs to your ISP, hosting, or email service provider and was caused by another of their customers.

This is because the email server will be shared by all of their customers and if they have insufficient outbound filtering, it can mean that one customer can negatively affect the reputation of the email server's IP address and cause it to be blocklisted.
If this is the case, it's best to contact your service provider and have them fix it by contacting us.
If you run your own email server and its IP address is listed and you're not sure why and can't find any issues in your logs, then please contact us, we'll be happy to provide you with evidence and advice on where to look for the problem and how to fix it. To do so, you can either use the live chat on our website or send us an email at [email protected].
IPs and domains will only be listed based on evidence
We never list IP addresses unless we have evidence of some wrongdoing and we'll always provide help and advice as we're only interested in getting problems solved, not to cause unnecessary pain or inconvenience.
Possible reasons for listings could be, that we have received spam from this IP address to our spam trap network, or that the IP has been infected or compromised and therefore has been behaving abusively.

Also, check out "how do I know if I'm being listed and what do I need to do" on our YouTube channel to get more useful tips and insights. Do you want to talk to our team about it? Feel free to do so by using the chatbot at the bottom right of every page or send us an email.