Digital ad fraud is a multi-billion dollar problem.
Unfortunately, it can happen to anyone, from small businesses around the corner to mega-brands with global reach. No one is immune to this kind of criminal behavior.
Are you a victim of digital ad fraud? Then you've come to the right place.
Keep reading to learn the four steps you need to take right now. By the end of this article, you'll know how to collect evidence, report fraudulent activity, ask ad networks for refunds, and take preventative measures to limit digital ad fraud in the future.
1. Collect Evidence
If you suspect you might be a victim of digital fraud, put on your detective's hat and search for evidence of criminal activity. Here are a few things to look for:
Zero Conversions: Digital marketing campaigns fall flat for various reasons, including digital ad fraud. If you feel your campaign is a winner but aren't generating conversions, you may be experiencing fraudulent activity.
Poor Engagement: You don't want your target audience to just see your ads. You want them to engage with your ads. Abnormally high bounce rates, short session times, and minimal pages per visit could signal digital ad fraud.
Odd IP Addresses: If a large portion of your traffic arrives from hosted servers, you may also be experiencing digital ad fraud. Scammers often use IP addresses from data centers to fake traffic and boost numbers for their own benefit.
High Click-Throughs: Every company wants a high click-through rate. But if your rate is ridiculously high, you're probably a victim of digital ad fraud. Compare your current CTR to the CTRs you've achieved in the past and industry benchmarks to find out.
Customer Complaints: Fraudsters sometimes impersonate legitimate businesses, sell customers inferior products, and disappear with the money. This often leads to a deluge of customer complaints that will make no sense to the legitimate business.
Remember, poor marketing campaigns can result in zero conversions and poor engagement. Just like a fantastic campaign can generate a high click-through rate. That said, these things could result from fraudulent activity and shouldn't be ignored.
2. Report the Fraudulent Activity
Once you collect evidence, you need to show it to the right people so that they can handle the matter. Here's how to report digital ad fraud on Facebook, LinkedIn, and Google:
Facebook
Are scammers running Facebook ads under your company's name? Report the fraudulent activity immediately by following these two steps:
Click the *** icon next to the phony ad.
Click "Report Ad" from the drop-down menu and follow the instructions.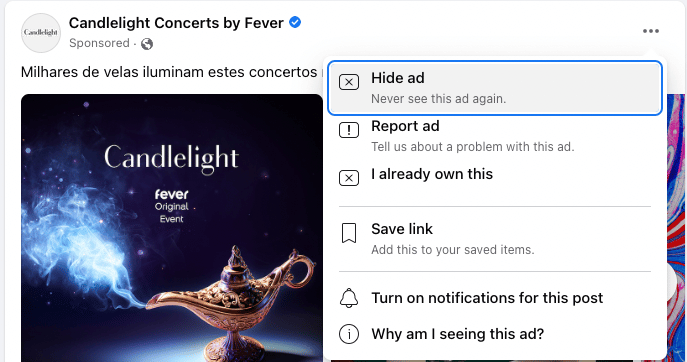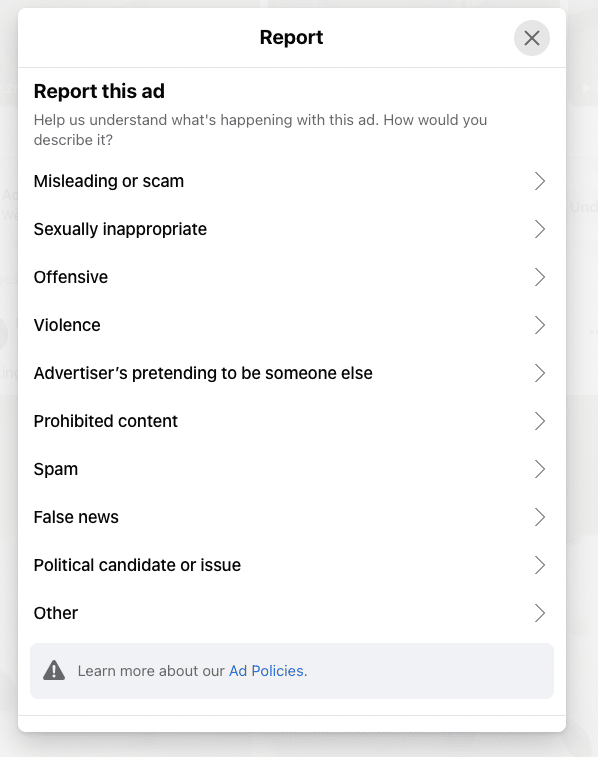 To report phony Facebook ads at a later date:
Go to the Facebook Ad Library.
Type keywords that pertain to the ad and/or the advertiser into the Search Ads box.
Scroll through the ads to find the one you want to report. Click the *** icon next to it.
Click "Report Ad" from the drop-down menu and follow the instructions.
LinkedIn
There's been a lot of talk in recent years about the effectiveness of LinkedIn's advertising platform. Some question whether it's a beneficial marketing channel given the high number of fake profiles and bots on the network. These concerns are directly related to digital ad fraud.
Unfortunately, LinkedIn is extremely protective when it comes to the structure and inner workings of its advertising platform. Because of this, you can't simply report digital ad fraud on LinkedIn like you can on Facebook and Google. You still have options, though…
LinkedIn allows its users to report phishing, scam, and fake activity, as well as fake profiles. By reporting them, you'll help reduce the number of fraudulent clicks you'll receive.
To report a fraudulent conversation, follow these steps:
Navigate to the top of your LinkedIn homepage and click the "Messaging" icon.
Click the message you want to report from the list on the left-hand side of your screen.
Click the "More" icon at the top of the conversation thread. Select "Report this conversation" from the available options.
Choose a reason from the "Why are you reporting this?" menu and follow the instructions.
Click "Submit" to report the conversation or "Back" to review your options.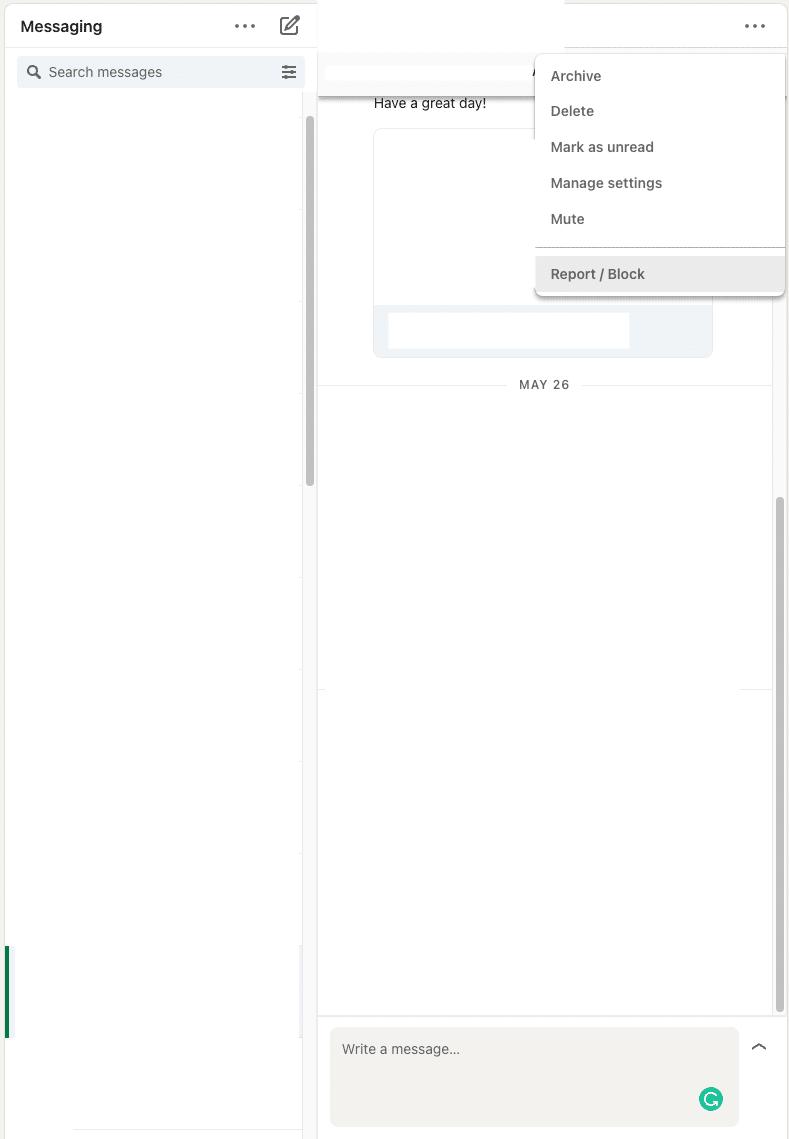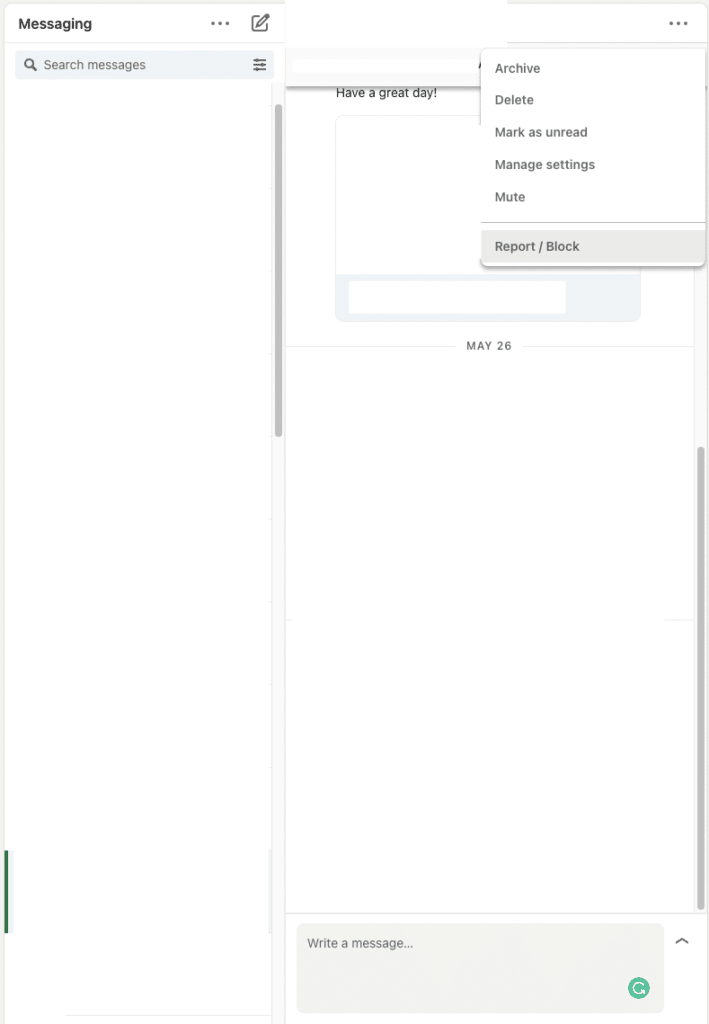 To report a fake profile, follow these steps:
Find the profile you wish to report.
Click the "More" icon and select "Report/Block".
Select an action from the "What do you want to do?" window. Follow the instructions.
Click "Submit" to report the profile, or "Back" to review your options.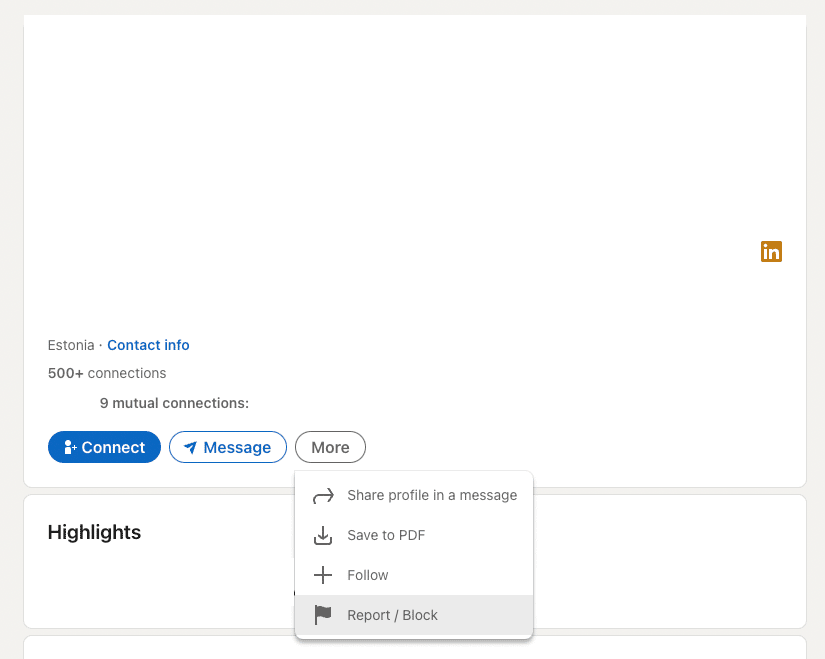 Google
Digital ad fraud can happen on Google, too. If you think scammers have targeted your business, you can report suspicious activity.
To report a fake Google ad or listing, go here.
To troubleshoot invalid clicks and contact Google's support team, go here.
3. Ask For a Refund
If you're a victim of digital ad fraud, you're probably wondering, "Can I get a refund for false advertising?" The answer is that it depends on the specific network and situation.
Facebook, for example, does offer refunds on a case-by-case basis. It usually takes about a month to recover funds, though the company offers ad credits, too, which can be received faster. At the end of the day, Facebook requires clear proof of digital ad fraud to issue refunds.
Like Facebook, Google will issue refunds for digital ad fraud, assuming sufficient evidence to prove you and/or your business were victims of invalid traffic. To submit your request for a refund, gather up the following bits of information:
Your customer ID
The start and end dates of fraudulent clicks
The campaigns that were affected
The ad groups and keywords that were affected
Whether you've opted into Display/Search networks
The ads you've had approved in the last month
Whether you've increased your bids and/or budget
If you've checked your account for invalid traffic or not
An explanation of the issue you're experiencing
A complete list of the IP addresses from fraudulent clickers
Any suspicious display placements you've received
Unfortunately, applying for a refund for digital ad fraud is time-consuming. And there's no guarantee that you'll be rewarded for your trouble. Still, it may be worth the effort if you have a lot of money on the line. It's up to you.
4. Take Preventative Measures
Finally, look for ways to prevent digital ad fraud in the future. That way, you don't have to deal with the inevitable headache. Here are two ideas to help:
Invest in Fraud Prevention Tools
Software like TrafficGuard, PPC protect, and CHEQ ClickCease uses advanced technology to analyze web traffic and block fraudulent clicks before they happen.
For apps in the Apple App and Google Play stores, a solution like AppsFlyer or Adjust may be better, as these tools are specifically made for the mobile arena.
If you and/or your company engages in digital advertising, either on the web or in mobile app marketplaces, invest in a tool to prevent digital ad fraud. You won't regret it!
Set Up Google Analytics to Detect Ad Fraud
You can also use Google Analytics to detect ad fraud, which is pretty handy considering Google Analytics is a prevalent platform you're probably already using. Here's how:
Login to your Google Analytics account.
Open the Reports tab and click "CUSTOMIZATION," then click "Custom Alerts."
Click "Manage Custom Alerts," then click "+ NEW ALERT."
Give your new alert a name, apply it to a specific report, select how frequently you want alerts generated, and set alert conditions that apply to your situation.
Click "Save Alert."
The question is, what should you have Google Analytics send you alerts for? We suggest setting up alerts for average session duration, bounce rate, traffic channels, and referral sources. If any of these metrics look odd, you may be experiencing digital ad fraud.
Please note that Google Analytics alerts will not help you prevent digital ad fraud. But it will help you detect when fraudulent activity happens.
Stop Digital Ad Fraud Before it Happens
Fraudsters won't stop attacking businesses like yours. Fortunately, you don't have to just sit there and suffer their abuse. You can get proactive about cybersecurity and protect your business from a wide range of evil attacks. Once you do, your organization will be more profitable, and you'll be less stressed.